The Leathers
This season's leathers are made in Italy and well known for their beautiful pattern and texture. The leathers are top grade and lean a little more on the firm side. They are tanned and treated with a waterproof finish making them great for products that are exposed to the elements. A unique trait of these leathers are their durability and scratch resistance making them a great choice for bags and leather goods needing unmatched durability for everyday wear and tear.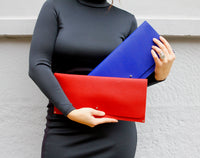 100% Genuine
Our pieces are handmade with heart using genuine luxury leathers.
Genuine Materials, Genuine Swag.